Summary : The 3180 was the blockbuster of the early eighties. The 3280 was an extension of this great line that came in 1985.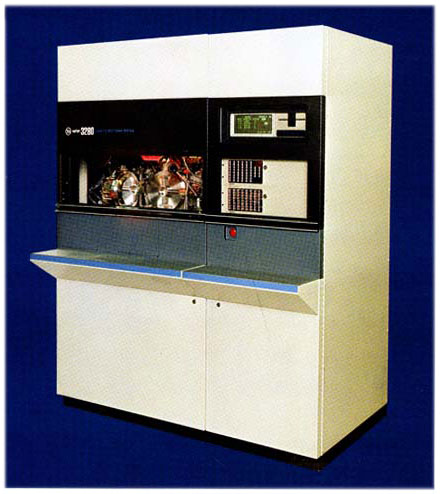 The time was the early eighties. Change for semiconductor equipment was in the air, you could almost smell it. CVD was coming on strong, threatening every aspect of vacuum coating for semiconductors. The coating companies themselves were dividing into the two camps of e-beam versus sputtering. Ten years earlier CVD comprised just 27% of the market. By 1983 it had grown to 41% and was gaining fast, causing some to predict the demise of PVD. However, during the same period sputtering had grown from 20% market share to 81%, pushing e-beam into the far corner of a small niche.
Varian management had already commissioned this new machine, the 3280, a cassette-in/cassette-out system, to displace their old manually-loading 3100 series, and was ready to introduce it. Still management wavered. The industry was just emerging from a downturn that bottomed out in 1981. Not nearly as tough as the 1975 downturn where SEMI salesmen's suit coats sported the badge 'I Survived 75', but worrisome nevertheless. This machine was a totally different animal from anything that had gone before. Would the customer accept it or walk away? One side pushed to introduce it, the other to scrap it.
Relying upon market research, those who developed it eventually won out and it hit the market. And so Explosively! Customers jumped at the chance to get it, soon propelling Varian to the number one spot. But perhaps more importantly, some within Varian said this system alone saved the company from destruction in the next, and the more severe, downturn of 1985-86.
Key Contributors: To Be Recognized.
Industry code: 1463.432
No Discernible Copyright.
Copied with the implied permission of the Owner
Mfr's Code: VAR