Summary : Applied Materials - Precision 5000 CVD, The blockbuster that made cluster tool a household name (at least in fab households)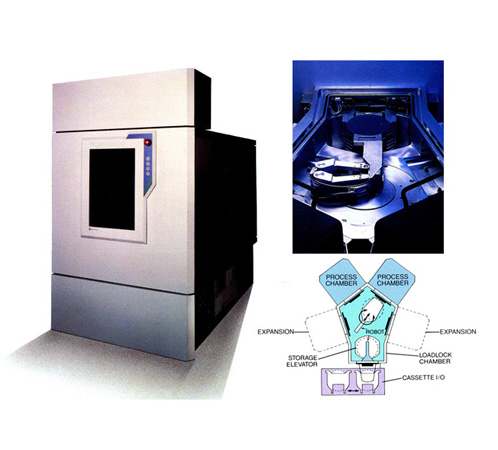 Here is the machine that changed the industry. Numerous companies had been trying unsuccessfully to create a true multi-process platform system that could perform several processes in sequence. This was the first successful system to actually accomplish that function well enough to be placed into manufacturing. It was designed as a four-chamber platform system with auto ports at each chamber and a robotic arm transferring each wafer between chambers and wafer load/unload.
It became the gold standard of all Applied Materials systems as well as the model around which the industry developed future platforms.
Click Here for Product Brochure & Specifications
Key Contributors: Dan Maydan, David N.K.Wang and Sasson Somekh. Dan, David and Sass were recipients of the SEMI Lifetime Achievement award in 1994.
Industry code: 1463.32
© 1997 by Applied Materials Inc
All Rights Reserved. Copied with permission of the Copyright Owner
Mfr's Code: AMAT