Summary : What the cutting edge of etching looked like in 1980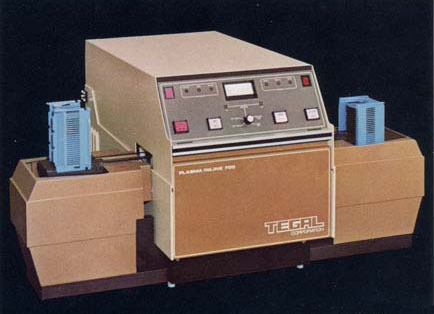 This little bench-top planar plasma etching system was king of the mountain in the United States back in the early eighties. One of the first planar electrode systems to be successfully introduced into the factory environment, it offered good etch uniformity and rapid end-point detection to shut down the plasma when silicon dioxide was no longer detected in the throw-off.
The company was founded by Ted Gallagher, who also provided its name from the first few letters of his own. At the time it was exceeded in size only by its main competitor, Tokyo-Ohka of Japan.
Click Here for Product Brochure & Specifications
Key Contributors: Ted Gallagher et al
Industry code: 1473.33
© 1981 by Tegal Corporation
All Rights Reserved. Copied with the implied permission of the Copyright Owner
Mfr's Code: TEG