Summary : A 6th gen maskless litho tool from the early 80's.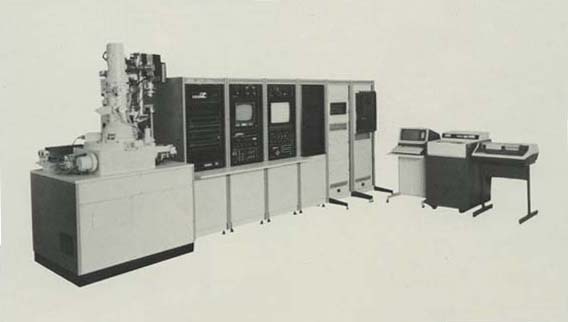 The JBX-6A e-beam exposure system was one of the few successful competitors to the Bell Labs e-beam exposure system that would eventually spin out as ETEC and then be acquired by Applied Materials.
In the early eighties, when news of the JBX-6A first arrived from JEOL (Japan Electro Optics Labs) it was a very viable and intensely feared threat. The Japanese onslaught of the American Semiconductor Industry was in full swing and the semiconductor equipment industry appeared to be its next target. Moreover, no one knew for sure how the alignment industry would turn. Would it go with steppers or with direct exposure e-beam systems that required no masks? This machine could swing either way, both as a mask making unit and a direct exposure unit.
Though it remained a major threat for many years, its eventual demise came about more because of outmoded design than through competitive pressures. JEOL failed to incorporate pattern vector capability into the tool. Several mask shops relying upon the system went under when they couldn't bridge the chasm between mask making and reticle writing.
Click Here for Product Brochure & Specifications
Key Contributors: To Be Recognized.
Industry code: 1435.33
© Possible Japanese Copyright
All Rights Reserved. Copied with the implied permission of the Copyright Owner
Mfr's Code: Obsolete
Posted by: Leebrick, David
Posted on: 08/31/08 04:57:36 PM
My experience with the JBX6A was as part of the VHSIC program. We bought the tool after considering the Mebes AEBLE system and an experiemtnal tool under development by the Naval Ocean Systems Group. We used the tool to do 0.5um circuit prototyping of simple structures, small circuits, and even wafer-scale test structures. In cooperation with the VHSIC team at Honeywell, we built a proximity correction capability with correction rate of 1 Million shapes per hour. At that time, this was way beyond what was commercially available in proximity correction. We were among the first to use acid-catalyzed resists with an e-beam tool, that being the Shipley SAL601 material. The two or three years that I was owner of that JBX6A tool were probably the most fun that I have had in my litho career. When VHSIC funding declined, the tool was offered on the used equipment market. The guy who bought it came in a pickup truck, thinking he had bought a JEOL SEM. It actually took 2 semi-truck loads to contain the whole system.!