Summary : They had the world on a string and were sitting on a rainbow, but had no idea of what a customer was. The industry's most significant marketing failure of the nineties.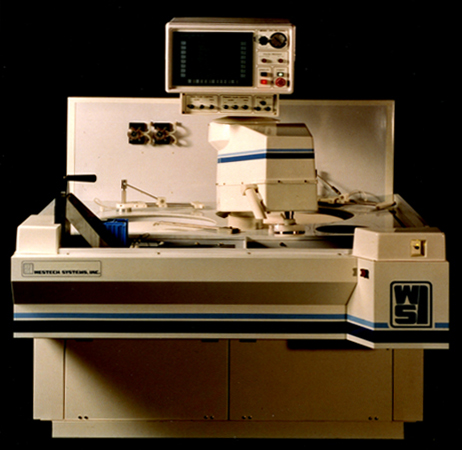 Westech Model 372 Automatic Wafer Polisher
Westech played a key role in the introduction of copper film processing and the advancement to sub-micron processing. By the mid 1980s it had become clear that aluminum films would not permit the high conductivity needed for sub-micron circuits. IBM had already solved the problem using the ancient damascene process but the process required blanket deposition of copper followed by a polishing step to remove copper everywhere except in the pre-etched patterns. Sematech supplied the funding and the support for Westech to produce the first commercially available CMP (chemical-mechanical-polishing) machines that could successfully remove copper.
Click Here for Product Brochure & Specifications
Key Contributors: To Be Recognized.
Industry code: 1440.00
No Discernible Copyright Notice
Copied with the implied permission of the Copyright Owner
Mfr's Code: WEST