Summary : Cobilt - Autofab, Inline Resist Processing System :1970s- Note the cleanroom attire and a young Sam Harrell.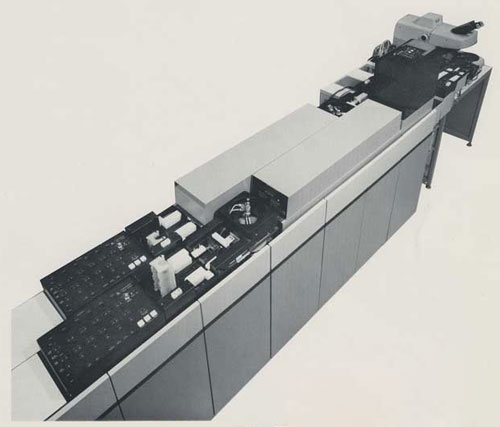 Early resist processing systems were notoriously difficult to keep running. They either gummed up or started breaking wafers. So Cobilt created the motto: Your yield is our concern. Indeed, it was one of the first system companies to comprehend the importance of yield to its customers. And that makes sense, for by-and-large systems companies did not understand the concept of yield. If one of their systems was bad, they just reworked it; no system was ever trashed. Has a brand new automobile ever been trashed because of some defect? Not so with an integrated circuit. It is either good or bad; generally there is no in between and no rework is possible except in a few rare designs.
So with Cobilt's emphasis on yield it shouldn't come as too much of a surprise that Autofab lasted for almost fifteen years from the time of its introduction in 1974.
For a while TEL (Tokyo Electron Limited) manufactured a portion of Cobilt's shipments. Meanwhile, in 1981, Applied Materials purchased Cobilt from Computervision, but then shut it down a year or so later. TEL acquired the manufacturing rights. Today Autofab's remnants are embedded in the TEL photo resist line.
Click Here for Product Brochure & Specifications
Key Contributors: To Be Recognized.
Industry code: 1433.0
No Discernible Copyright
Copied with the implied permission of the Owner
Mfr's Code: TEL