Summary : Applied Materials - The Mirra CMP System - The first CMP tool that was really ready for manufacturing.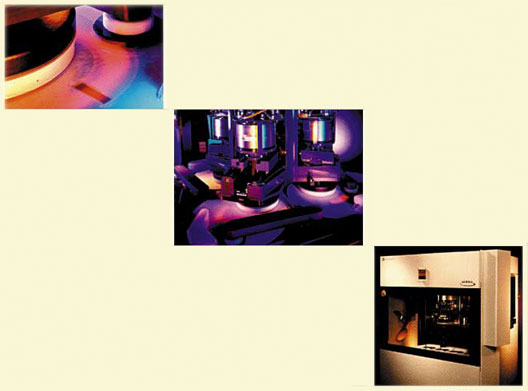 CMP was invented by IBM as a practical solution for patterning its damascene copper process; borrowing from the ancient method of producing Damascus Swords. SEMATECH took up the method from them and working with a few small companies, such as Westech, for example, made it ready for the open market. But the small companies weren't quite good enough players to excite the regular market, so it was when this machine was introduced that the market was about to be made. But even mighty AMAT can sometimes stumble.
Announced in 1997, this unit was AMAT's first entry into Chemical Mechanical Polishing. The Mirra was the first CMP system that successfully integrated endpoint detection and integrated cleaning. It was a latecomer among those several other entries that had been around for several years. In fact, the leading supplier at the time had more than 60% market share. But like so many of Applied's offerings, it soon overwhelmed the market and became the major CMP system in use.
The existing competitors had come from the wafer making market and never really comprehended chip maker's need for extensive support. They had poor customer satisfaction, which left an open window for Applied's late entry. Ironically, CMP was difficult and this system was plagued with teething problems – so bad that some customers derided it as the "Smoke and Mirra." But Applied's Bulldog persistence as well as its superior customer service and focus paid off, taking it to the top of the market.
Click Here for Product Brochure & Specifications
Key Contributors: Sass Somekh, Rob Davenport and others.
Industry code: 440.0
© 1997 by Applied Materials Inc
All Rights Reserved. Copied with permission of the Copyright Owner
Mfr's Code: AMAT