Summary : Silicon mythology has it that node progression is predictable and constant. In reality it's not. Node times have varied substantially and companies have even fallen behind. The key to success is persistence in R&D no matter how tough the going gets. There was a time when Intel was extremely consistent and TSMC was falling behind. This is that story. Eventually, TSMC's persistence paid off.
January 18, 2013 – From the Front Lines: Are the foundries slowing?
It really depends on how you approach the question. If you look at it the way the foundries like to, which is the number of quarters it takes to ramp to volume production, they did a stellar job with 28nm. Our people focused in on TSMC to answer the question.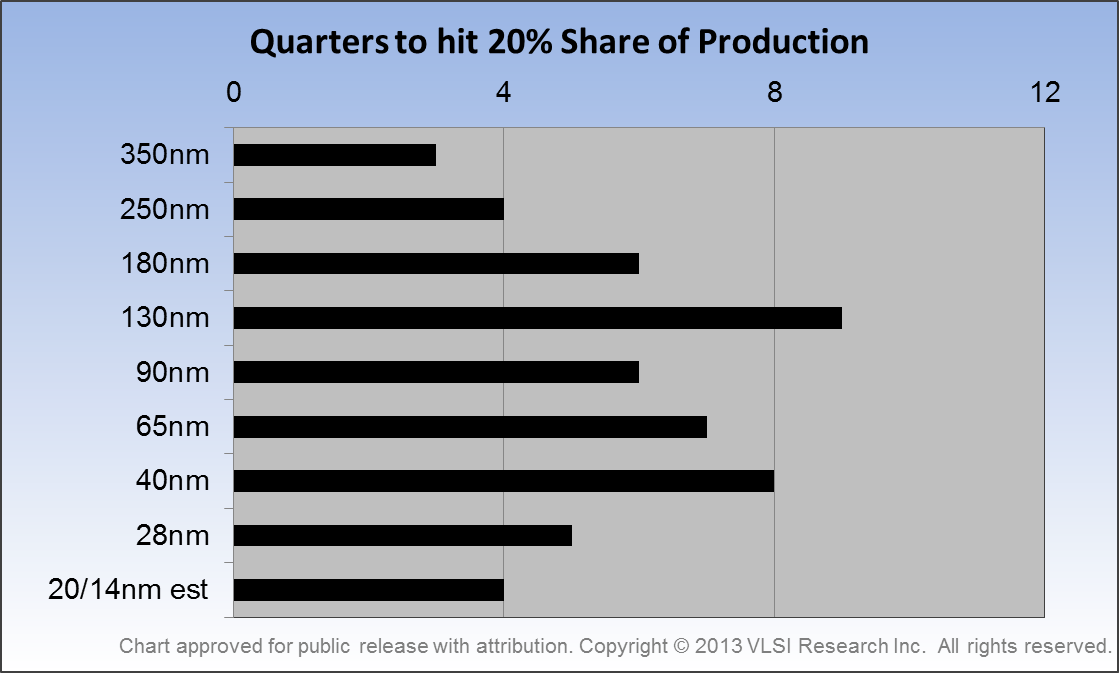 In fact, if they stay on trend, they will be back to the 4-quarter production ramp achieved at 250nm. However, this is in part due to the fact that the fabless production distribution is shifting to the right, as the giant wafer demand centers — Altera, Xilinx, Qualcomm, Nvidia, and Broadcom command a greater share of wafers.
In quarters between 20% production levels, there is more significant reduction in how fast they are jumping between nodes. Here, both 40nm and 28nm times dropped. At 8 quarters, they are way off the 12 quarters seen with 130nm. What this means is that contrary to common wisdom, the time the industry is holding on to nodes before jumping to the next is decreasing. Great news for foundries, but I would also say it's a function that the fabless production distribution is shifting to the right.
The problem lies in R&D Quarters before the production ramp begins in earnest.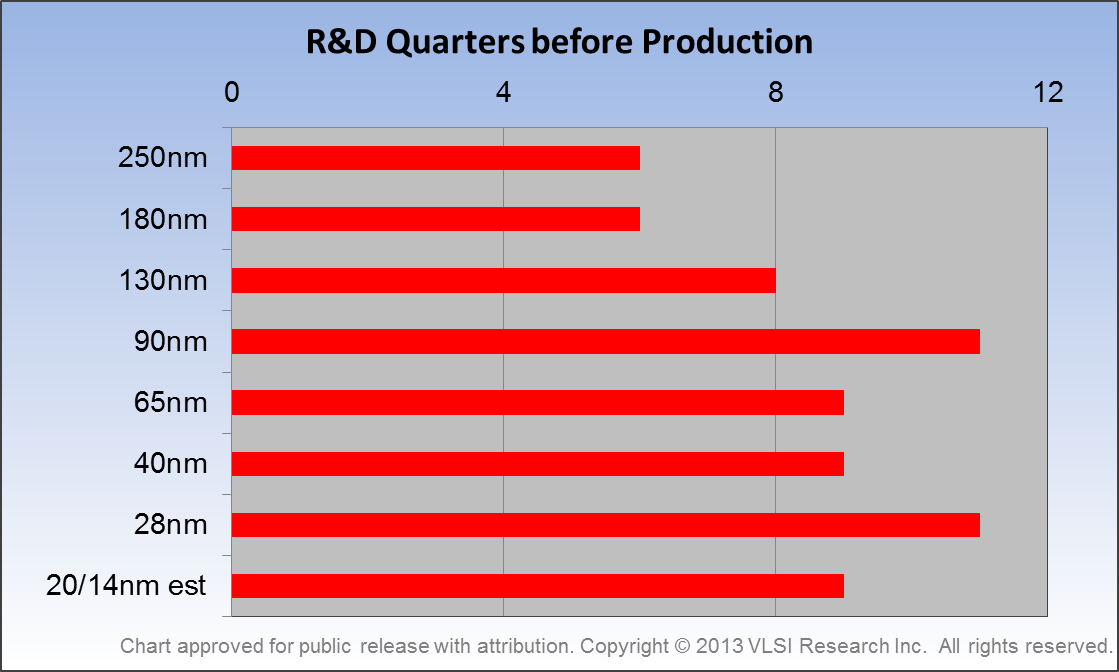 Here, we measured the start of development from when the last production ramp started to when the current one started. Clearly, it's a very worrisome trend. 28nm was worse than both 65nm and 40nm. It matches 90nm, where everyone had problems with scaling copper. Essentially what it means is that as development costs rise, they are having to start earlier. The good news is that this is being offset by faster time to volume, indicating there is increasingly greater demand for the next node with each cycle of Moore's Law.
By G Dan Hutcheson Copyright © All rights reserved.