Summary : Arguably the best stepper of its day, based on resale values.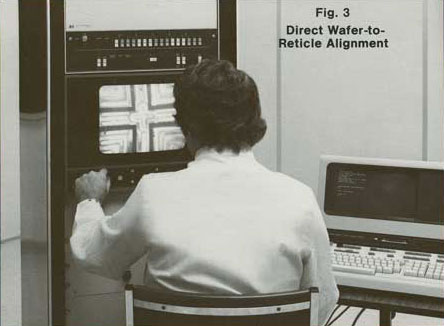 Don't think 'Single Lens Reflex', instead think 'Single Lens Repeater' for that was what 'SLR' meant. Electromask's strongest rival, GCA, had already trademarked the popular concept of 'Direct Step on Wafer', and had pretty much corralled the term 'wafer stepper' as well, leaving Electromask with little room to differentiate its stepper. And it was a good one too, in some ways better than the GCA DSW, as the accompanying brochures show. But Electromask, whose expertise was in mask making, was owned by TRE, which didn't understand how to market to the wafer fab industry, so it was eventually sold out to a new startup, ASET (American Semiconductor Equipment).
Click Here for Product Brochure & Specifications
Key Contributors: To Be Recognized.
Industry code: 1434.363
No Discernible Copyright
Copied with the implied permission of the Copyright Owner
Mfr's Code: TRE
Posted by: Leebrick,David
Posted on: 08/31/08 04:33:00 PM
Through the lens alignment was the big plus that attracted me to the SLR700 and it's compact successor, the SLR800. Coming from several years of experience with Canon steppers, that seemed like a much better technique than the GCA's off axis alignment. The SLR700 was big, as were all the steppers of that day. Some even called it's environmental chamber a "cottage". But the chamber made it's operation more reliable than the older Canons and we put up with it. Another feature of the SLR700 that made it attractive was a reticle changer for four reticles. This made it easy to do test chips and drop ins. And automatic alignment made it more production-worthy.
Downsides of the tool included keeping the air-bearing stage well adjusted. That was a real pain, and a serious detractor from productive uptime. Although the TRE tools proved not to be long-lived products, I think TRE users made clear advancements to stepper matching, automated alignment methods. The TRE 700 and 800 tools deserve a prominent place in the development of modern lithography,