Summary : The Intel secret weapon that turned the industry upside-down and revolutionized lithography.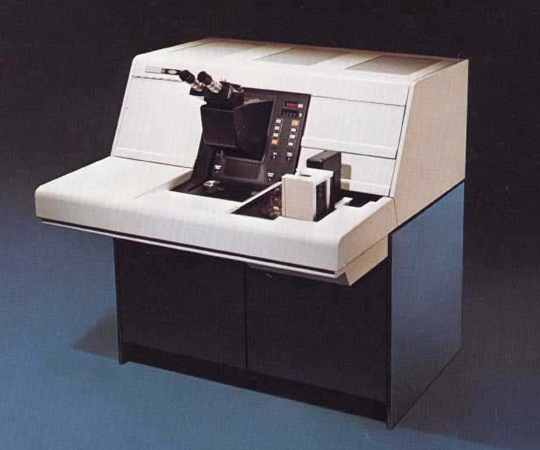 Here we have the aligner that literally made the modern IC industry. Prior to its introduction contact and proximity aligners were the only available units. Yield was notoriously low, at 10 or 20%, often nearer zero. Intel reputedly worked with Perkin-Elmer to secretly arrive at its design. Word began to leak out that Intel had this marvelous new aligner which yielded in the 70% range.
The rest is history. By the mid seventies Perkin-Elmer had become the largest equipment supplier in the entire industry. The company would later become even more well known as the supplier of the lens for the Hubble Space Telescope. But the company's very success would also doom it, as it responded too late to the threat presented from the stepping aligner. Perkin-Elmer was eventually purchased by The Silicon Valley Group which then became part of ASML.
The Near Impossibility of Making a Microchip
Click Here for Product Brochure & Specifications
Key Contributors: Jere Buckley, Harold Hemstreet, David Markle, Abe Offner
Industry code: 1434.34
© undated by Perkin-Elmer
All Rights Reserved. Copied with the implied permission of the Copyright Owner
Mfr's Code: ASML
Posted by: Ward,Paul R
Posted on: 04/07/09 04:48:57 PM
The Perkin Elmer 140/240/340 series took Chipmaking out of the dark ages and made it the powerhouse industry we know today. From it's introduction in Intel's Livermore Fab, it changed the way processing took place, and within 3 years, the Santa Clara Valley became the Silicon Valley. A Fab that had P&Es in 1980 was where you wanted to be, and if you were a 'Perkin Elmer' Process Engineer or Equipment Engineer, all you had to do to change jobs was to drive into a different parking lot on Monday Morning. Not that the P&E didnt have its problems. Focus, Distortion, Arc'ing, Vibration, Temperature Control, and Operator Misalignment Errors were the constant headache of the Engineers. And, in the 80s, there were always people problems ( should I mention the time I found out that one of the operators had used the Focus Wedge Mask for a cocaine mirror ? ) That being said, when they were 'UP', they ran like a hose, and you could get 50 4" wafers per hour through one with a good operator. And, when they were 'DOWN', you found yourself wearing the production supervisor like three coats of fresh paint until you got the problem fixed. They made millions for companies, and paid off a lot of mortgages in the Valley.