Summary : Not the first such system, but near the first.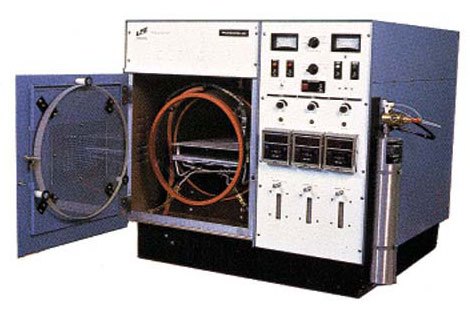 When Steve Irving began to experiment with the first plasma etchers at Signetics in the late 1960s, the Tracerlab division of LFE was the company he turned to for equipment. Back then these were mostly ashers, or resist strippers, as they were sometimes called. Data on those models are long gone.
This model was originally released as a barrel stripper. By 1981 it had evolved into this version as a chrome mask etcher. Was it a barrel etcher or a planar etcher? That's hard to tell now; perhaps it was an early crossover machine.
At any rate, it could etch chrome and then remove the resist by a change in gas mixtures. Though used mostly in mask making companies, it was still advertised as a wafer descummer.
Imagine this: It sold for the grand price of $50,000. That was some nine times more than the $5600 Steve paid LFE for his machine.
Click Here for Product Brochure & Specifications
Key Contributors: To Be Recognized.
Industry code: 1473.51
Printed 1982, No Discernible Copyright
Copied with the implied permission of the Copyright Owner
Mfr's Code: LFE