Summary : Remember air track? It was all the rage in the days when technocool won out over particle counts. Ask anyone who ever sold one, these were one of the worst tools ever sold. Yet they sold them by the boat load – ask anyone who sold against them.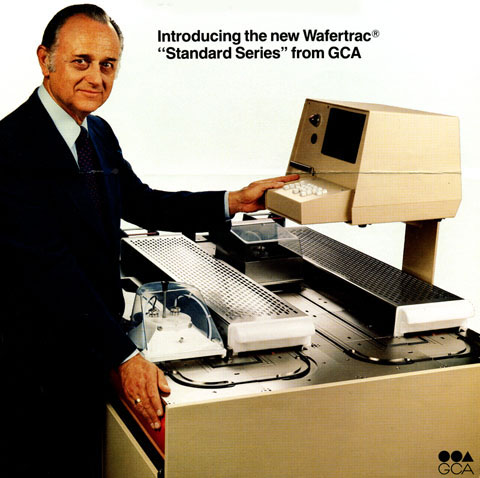 In the beginning, GCA had some of the original track systems developed for the industry after they acquired IMS and made it a division at the same level as the photo repeater. Steppers were still in the future and no track system was equipped with software and hardware hooks so as to interface with the aligner. The pieces just stood alone, often in their own sealed room —a prebake here, a postbake over there, while the spinner sat in the middle, which was just as good as it spewed resist everywhere, gumming up the works and all around it. So when this system emerged, about the same time as competitive systems from others, it was a substantial improvement, though gummy resist remained the perpetual problem.
The system was a success and inspired others to engage the market, but back then GCA was truly King of the Mountain.
Click Here for Product Brochure & Specifications
Key Contributors: Art Lasch
Industry code: 1433.0
No Discernible Copyright Notice
Copied with the implied permission of the Copyright Owner
Mfr's Code: GCA