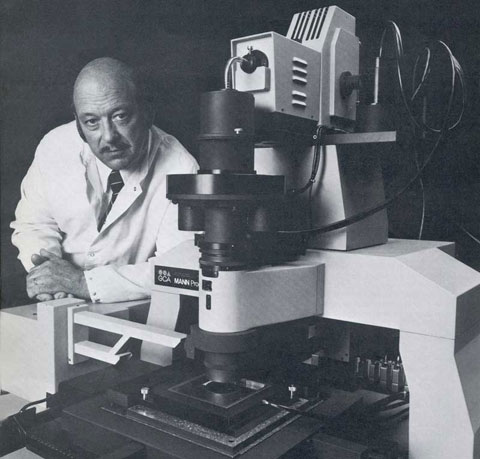 Here is the Mann and the man that together started two revolutions in the semiconductor capital equipment industry.

The GCA Mann 3600 Photo Repeater first created a sensation in the photo mask making business with its fine line capability and automated exposure in its own environmental chamber.

GCA executive A. C. (Bill) Tobey later recognized how easily it might be transformed into a wafer stepper, and how much that might improve mask alignment. He thought it would be most useful as a tool to improve critical line width, but the customer saw that it would be even better for its extremely small mask overlay error. The rest is history. For a view of this system as a wafer stepper, see the GCA Mann 4800 Direct Step on Wafer System.

Key Contributors: Burton Wheeler, who was one of the 1981 recipients of that year's SEMI AWARD for design of this system.