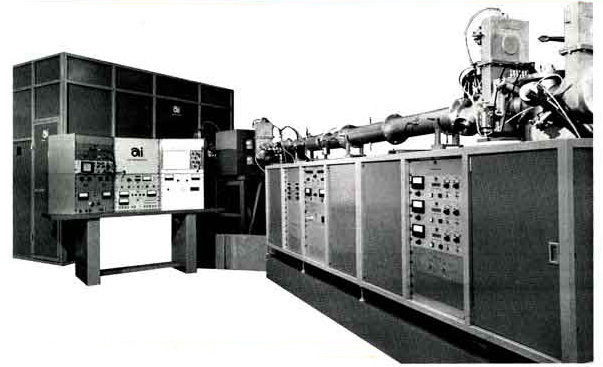 This photo from the AI 400 series high energy implanters is one of the earliest decent photos from the time. An almost identical system labeled the 200MP is shown in "J.F. Zeigler's" book Ion Implantation Science & Technology but is too small to reproduce successfully for these purposes.

Accelerators Inc. was formed by individuals from Picker Nuclear in Austin Texas, and like most other implant companies, grew out of atomic research. It sold its first system to Texas Instruments, in Dallas. That was probably the third system sold for semiconductor research, the other two being from Lintott and High Voltage Engineering, bound for Signetics and Fairchild.

The TI system was likely the model 200MP or one similar from about 1970 or 1971. The system shown here was introduced somewhat later.

Accelerators Inc was acquired by VEECO in 1979. A later model the VEECO AI2100 is shown in an adjacent Veeco frame in the 1970's groupings.
Key Contributors: To Be Recognized